First Ontario PAC, St. Catharines
*Please check back as we approach the competition for updates.
Address: 250 St. Paul Street, St. Catharines, ON L2R 3M2
**Shine Dance Competitions is being held in Partridge Hall
Stage Dimensions: approximately 35′ deep x 45′ width (at the back) & 58′ width (across the front); wings are approximately 10′
Parking:
On-site parking is not available at the First Ontario PAC; however, there are more than 1000 pay parking spots available in nearby parking garages, surface lots, and on city streets within a five-minute walk to the PAC. Please visit this link for more details.
Drop off points are available in front of the Box Office Entrance on St. Paul Street and by the front doors closest to Partridge Hall along Carlisle Street.
**Please ensure you give yourself extra time to park and walk to the theatre.
For Trailers:
Below is a map of the parking lot for trailers.  After unloading trailers can park at the Riordon St Lot.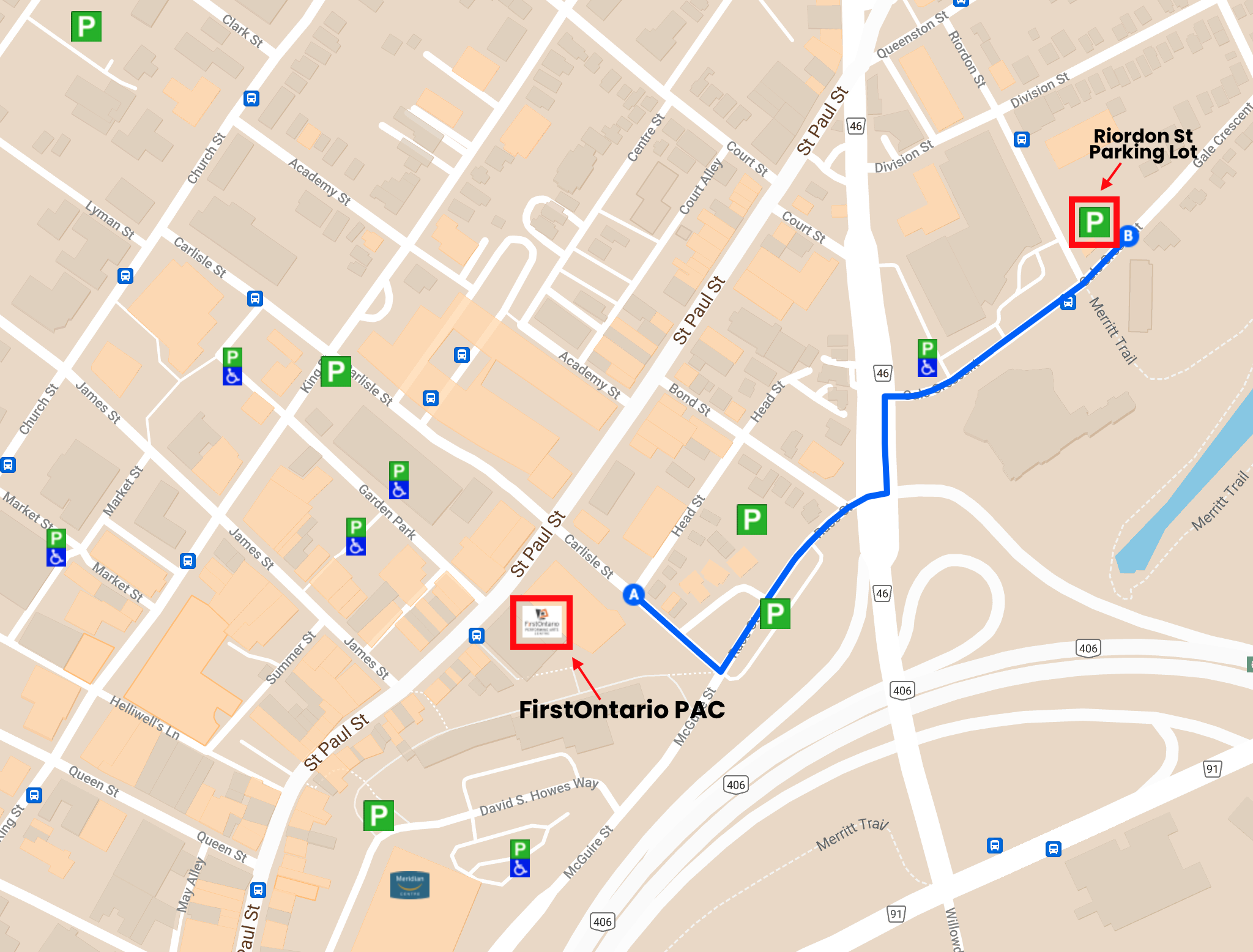 Loading Dock:
Access to the loading dock is off of Carlisle Street.  Unfortunately, this is not a parking area – and once you have finished loading/unloading, please move your truck.
Props:
There is a very limited amount of storage space for props in the loading dock area.  Please unload only what props you will need for the day and remove them promptly after use to make room for incoming props.
We thank everyone in advance for sharing the loading dock space.
Dressing Rooms:
All studios will be assigned dressing rooms. We thank you in advance for your cooperation with regard to sharing this space.
Rehearsal Room:
An area will be designated as rehearsal for all dancers to share.
FOOD DRIVE
Shine Dance Competitions is excited to continue our commitment to charity by once again implementing our Canned Food Drive! Shine will be collecting non-perishable food at each competition and donating it to a charity.