Belleville:  Event Information
The Empire Theatre; April 11 - 14, 2024
ADDRESS
The Empire Theatre, 321 Front St, Belleville, ON K8N 2Z9

The building will open 1 hour prior to the first performance of the day
STAGE DIMENSIONS
approximately 30' deep x 30' wide. Max Height for aerial rig: 14'
IMPORTANT PROP NOTE
*Please make arrangements for props to be removed after your dances. There is no prop storage space available in the Theatre.
LOADING DOCK
The dock loads directly onto the stage – so we ask all major props only be loaded right before a performance; and be removed right after.
The theatre loading dock is located at the back of the building and is accessible from both Front Street and Pinnacle Street.
Please see diagram below: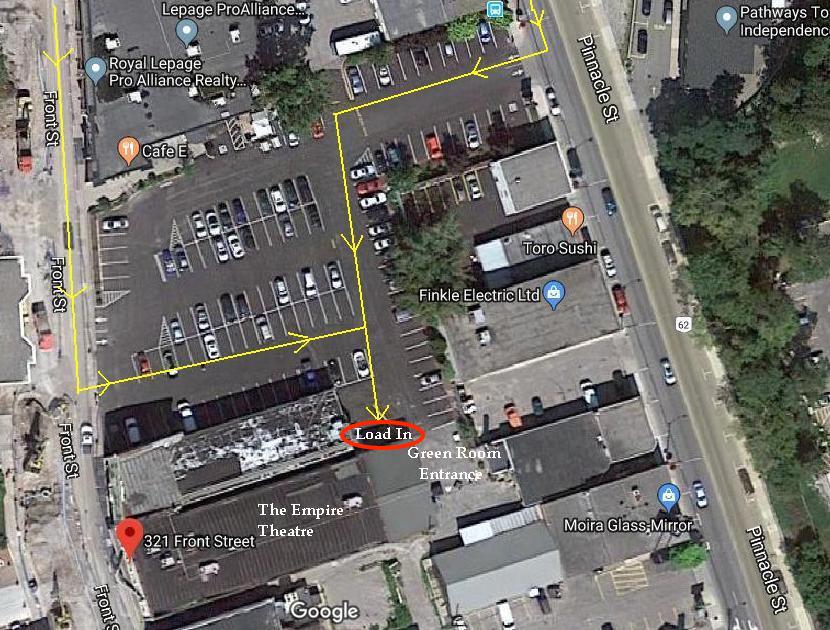 PROPS
Please ensure you have adequate staff to prep your props for easy load-in and load-off the stage.  Heavy items should be on dollies to avoid scratching the dance floor.  Props can be pre-assembled in the loading dock and then wheeled onto the stage.  We want to keep to our time-schedule so dancers are dancing as scheduled.
Thank you everyone for your combined efforts as we know this takes a lot of time and coordination!!
PARKING
There is a free parking lot adjacent to the theatre – please see image above.
DRESSING ROOMS
All dressing room space will be shared between studios as it's very limited.
We thank you in advance for your cooperation with regard to sharing this space.
To avoid congestion:

Have hair/make-up done.
please vacate when the room is not needed.
Parents -- please pack-up all belongings from change rooms if you are leaving after the awards to make room the incoming dancers.
REHEARSAL AREA
Unfortunately, there is no rehearsal area available for this event.  Please plan accordingly.
SHINE SHOP
Our Shine Shop will be in full operation to get your Shine Dance Merchandise.  Please note that we will be accepting only credit or debit cards -- we will 

not

be accepting cash.
Hotel Name: Best Western Belleville
For Dates: April 11 – 14: The Empire Theatre, Belleville
Block Booking Under

Shine Dance Competitions Group #2849

For booking link please click here

Address (See map)
387 N Front St, Belleville, ON K8P 3C8
Phone

(613) 969-1112

E-mail
See website
Rate (taxes not included)
$135
Parking
Free
Group Booking Ends
March 10th, 2024
Cancellation Policy
24 hours prior to arrival.
Check-In/Out
Check-in: 3:00pm / Check-out: 11:00am
Website
Click here
Breakfast Included?
Yes
Pool?
Yes
Driving Distance From Venue (approx.)
7 mins drive
PROGRAMS
Programs will be made available for download, free of charge, through our website approximately 2 weeks prior to the event. 
Programs will not be sold at the event.
We may run up to 15min early from the scheduled times. 
AWARDS PIN
Every dancer receives a custom Shine Awards Pin to display your ribbons on your Team Jacket! We've got one per dancer, so please make sure you pick it up at the Shine Shop.
LIVE STREAMING
This event will have a live stream available through our website
A code to watch will be provided soon
FOOD DRIVE
We are very excited to continue our annual Food Drive where all proceeds are donated to a local food bank.  To date, we have collectively raised 22,825 lbs of food!!
Please remind your dancers to bring at least 2 items of non-perishable food for our drive.
PHOTOGRAPHY
As a reminder, your entry fees now include all your Studio's photos and videos!
Media will be available approximately 1 week after the event.
STUDIO NAME/LOGO
In an effort to keep your studio's identity from the judges during performances, we ask that you please cover your studio logo when placing props on the stage. 
Your dancers are certainly encouraged to wear their studio attire during awards ceremonies.
Your costume should not contain your Studio Name*
STAGE ETIQUETTE
Substances which alter the condition of the stage, and may affect the dancing surface for other competitors are prohibited (e.g. tossing sparkles, baby powder, water/liquid, body paint, etc.).  If it cannot be easily swept off the stage quickly, it should not be put on the stage.
If the stage is littered after your performance (ex: feathers, paper etc.). you must be ready for immediate removal of the items. We will have a flat broom backstage.
Helium balloons are not to be released on-stage as it is costly to get them down and they may pop during another performance if left on the ceiling. They may be used if they are on a weight and not released.

Released balloons may result in a deduction or the routine being 'adjudicated only'