Belleville:  Event Information
The Empire Theatre; April 14 - 16, 2023
ADDRESS
The Empire Theatre, 321 Front St, Belleville, ON K8N 2Z9

The building will open 1 hour prior to the first performance of the day
STAGE DIMENSIONS
approximately 30' deep x 30' wide.
IMPORTANT PROP NOTE
*Please make arrangements for props to be removed after your dances. There is no prop storage space available in the Theatre.
LOADING DOCK
The dock loads directly onto the stage – so we ask all major props only be loaded right before a performance; and be removed right after.
The theatre loading dock is located at the back of the building and is accessible from both Front Street and Pinnacle Street.
Please see diagram below: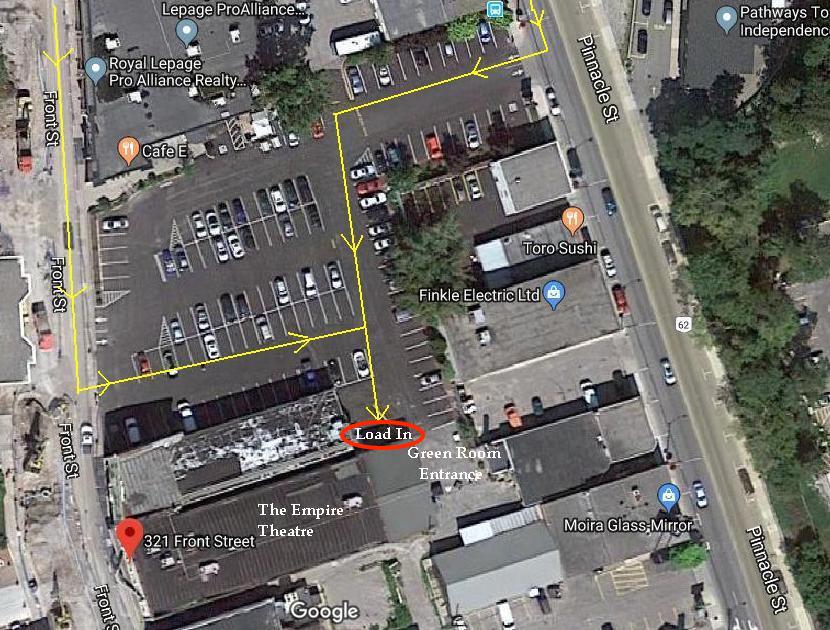 PROPS
Please ensure you have adequate staff to prep your props for easy load-in and load-off the stage.  Heavy items should be on dollies to avoid scratching the dance floor.  Props can be pre-assembled in the loading dock and then wheeled onto the stage.  We want to keep to our time-schedule so dancers are dancing as scheduled.
Thank you everyone for your combined efforts as we know this takes a lot of time and coordination!!
PARKING
There is a free parking lot adjacent to the theatre – please see image above.
DRESSING ROOMS
All dressing room space will be shared between studios as it's very limited.
We thank you in advance for your cooperation with regard to sharing this space.
To avoid congestion:

Have hair/make-up done.
please vacate when the room is not needed.
Parents -- please pack-up all belongings from change rooms if you are leaving after the awards to make room the incoming dancers.
REHEARSAL AREA
Unfortunately, there is no rehearsal area available for this event.  Please plan accordingly.
SHINE SHOP
Our Shine Shop will be in full operation to get your Shine Dance Merchandise.  Please note that we will be accepting only credit or debit cards -- we will 

not

be accepting cash.
Hotel Name: Best Western Belleville
For Dates: April 13 – 16: The Empire Theatre, Belleville
Block Booking Under

Shine Dance Competitions Group #2795

For booking link please click here

Address (See map)
387 N Front St, Belleville, ON K8P 3C8
Phone

(613) 969-1112

E-mail
See website
Rate (taxes not included)
$119
Parking
Free
Group Booking Ends
March 12th, 2023
Cancellation Policy
24 hours prior to arrival.
Check-In/Out
Check-in: 3:00pm / Check-out: 11:00am
Website
Click here
Breakfast Included?
Yes
Pool?
Yes
Driving Distance From Venue (approx.)
7 mins drive
PROGRAMS
Programs will be made available for download, free of charge, through our website approximately 2 weeks prior to the event. 
Programs will not be sold at the event.
We may run up to 15min early from the scheduled times. 
AWARDS PIN
Every dancer receives a custom Shine Awards Pin to display your ribbons on your Team Jacket! We've got one per dancer, so please make sure you pick it up at the Shine Shop.
LIVE STREAMING
This event will have a live stream available through our website
A code to watch will be provided soon
FOOD DRIVE
We are very excited to continue our annual Food Drive where all proceeds are donated to a local food bank.  To date, we have collectively raised 22,160 lbs of food!!
Please remind your dancers to bring at least 2 items of non-perishable food for our drive.
PHOTOGRAPHY
As a reminder, your entry fees now include all your Studio's photos and videos!
Media will be available approximately 1 week after the event.
STUDIO NAME/LOGO
In an effort to keep your studio's identity from the judges during performances, we ask that you please cover your studio logo when placing props on the stage. 
Your dancers are certainly encouraged to wear their studio attire during awards ceremonies.
Your costume should not contain your Studio Name*
STAGE ETIQUETTE
Substances which alter the condition of the stage, and may affect the dancing surface for other competitors are prohibited (e.g. tossing sparkles, baby powder, water/liquid, body paint, etc.).  If it cannot be easily swept off the stage quickly, it should not be put on the stage.
If the stage is littered after your performance (ex: feathers, paper etc.). you must be ready for immediate removal of the items. We will have a flat broom backstage.
Helium balloons are not to be released on-stage as it is costly to get them down and they may pop during another performance if left on the ceiling. They may be used if they are on a weight and not released.

Released balloons may result in a deduction or the routine being 'adjudicated only'
Layla Cornacchia
Layla Cornacchia has been a part of the dance community since the age of 5. She began her dance training in Ballet, Jazz, and Tap at the age of 5 and eventually went on to find a passion for many styles such as Hip Hop, Modern, lyrical, contemporary, acro, and musical theatre. Layla's successes in the competitive dance world inspired her to continue her education at the prestigious Randolph Academy For The Performing Arts in Toronto where she trained in Acting, Dancing, And Singing and landed principle roles in productions such as The Last Days Of Judas Iscariot (The Annex Theatre) and Legally Blonde: The Musical (The Randolph Theatre)
Layla has been teaching since the age of 15, and teaches dancers from ages 3-18. She has pursued a professional career in both acting and dancing. Most recently, Layla was featured in a print ad (Mcain Foods International) and had a principal role in the true crime TV series Unexpected Killer season 1 & 2 (Oxygen Network) as well as a principal role on the TV Series Haunted Hospitals (T&E Network)
Layla is a fully certified Acrobatic Arts teacher (Module 1 through 3), a graduate of Associated Dance Arts For Professional Teachers (ADAPT) Program, and has most recently completed her Alixa Flexibility courses modules 1 through 4. Layla is an award winning choreographer and has created unique and successful routines for reputable studios across Canada. Layla is a proud member of the Professional Adjudicators Alliance, and Above all Layla aspires to uplift and inspire the dancers she works with.
---
Arlene Murchison Doggart
Arlene Murchison Doggart has been dancing since the age of 3, studying and training in tap, jazz, ballet, acro, modern, lyrical, contemporary, musical theatre, pointe, hip hop and song and dance. While training at the Sandra Purdy school of dance she completed all exams with the Canadian Dance Teachers Association (CDTA) in tap, jazz and ballet with the highest honors. Getting a chance to dance and take classes with choreographers like Mia Michaels, David De Marie and Brian Foley opened the door to winning scholarships and awards like top dancer, most potential dancer and overall highest score.
‌
Arlene got her full teachers certification with CDTA in 1991 and Dance Masters of America (DMA) and Canadian Dance Masters of America (CDMA) in 1993. She has also has been certified as a level one gymnastic coach, first aid responder and has choreographed on ice for Canadian figure skaters and worked with national, Olympic rhythmic gymnasts. Arlene has also taught hip hop in the public and private school systems.
Opening her own studio in 2000 in Newmarket, winning 15 consecutive years of Readers Choice awards for Best studio, she became involved with community events and fundraising opportunities.
‌‌Taking her dancers to competitions across Canada and the US has given multiple opportunities for them and some of her students have won titles such as: Miss Dance Canada, Mister Dancefest, Miss CanDance, Little Mister Starpower, Master Dance Canada, Petite Miss Dance Canada, Junior Mister OnStage New York, Junior Dancer of the Year (ADA), Teen Dancer of the Year (ADA), Junior Miss Dancefest, 1st runner up Junior Miss Dancefest, 1st runner up Master Dance of America and 1st runner up Senior Mister Bedazzled. Arlene has also won multiple choreography awards and special awards.
She teaches tap, jazz, ballet, acro, modern, lyrical, contemporary, hip hop, musical theatre, pointe, song and dance at the recreational and competitive levels to all ages.
‌
Arlene is an adjudicator and has judged for many competitions and title pageants, including Dance Canada, Dancefest, Synergy, Dance Odyssey, DMA, Phoenix, Shine and the Shine virtual event.
‌
Arlene's students have gone on to professional careers with Cirque De Soleil, on Broadway in Billy Elliot and The Sound of Music, Shaw Festival, movies, the television show Degrassi, So You think You Can Dance Canada, in commercials, music videos and even now owning their own dance studios and adjudicating.
---
Natalie Pitton-Sweazey
N.B.S.T.T.P.(dip), ACSC-CICB, A.I.S.T.D., RYT-200 (Suspension)
Natalie is a Teacher, Choreographer, Adjudicator and Educator who celebrates her love and knowledge of dance, yoga, mindfulness & fitness, with an inspiring class and her booming energy!
Natalie has been an active member of the dance industry, within North America, for over thirty years and is trained extensively in Ballet, Jazz, Modern, Contemporary, and Lyrical. Natalie is a graduate of the prestigious National Ballet School's Teacher Training Program, working and training under the instruction of dance experts such as Karen Kain, Mavis Staines, and the late, Glenn Gilmour. Natalie also obtains her B.F.A. (Spec.) Hons. in Dance.
Natalie is a Full Associate Member of the Cecchetti Society of Canada and a former Associate member of The International Society of Teachers of Dancing (I.S.T.D.), the Royal Academy of Dance (A.R.A.D.R.T.S.) and Dance Masters of America (DMA). Natalie holds her Advanced Cecchetti Diploma, National Advanced II and RAD Advanced II, with Honours. In addition to her teaching qualifications, Natalie is a qualified Health and Wellness Coach, Yoga & Suspension Yoga Instructor, Progressive Ballet Technique Instructor, and Raising the Barre Instructor.
Ms. Pitton-Sweazey has been teaching and choreographing for competitive and recreational students for over 18 years. Her students and choreography have received "Platinum" status and have received various scholarships for their accomplishments. Many students have also continued forward in their studies to dance professionally in Companies and Professional Training Programs, such as The Alvin Ailey American Dance Theater, Juilliard, Boston Ballet, The Royal Winnipeg Ballet, Quinte Ballet School, The National Ballet School, and Disney. Natalie is an active adjudicator, sharing her knowledge and passion across Canada for over 13 years. She has traveled over Canada holding many workshops in all dance forms and has also choreographed for many small performance projects across Canada. Those including pieces in; Encore Dance Production's, The Nutcracker; Rhythm and Grace Production's, Reflections, and creating a strong repertoire their professional archives.
Natalie's passion for this art form holds no limits and she looks forward to continuing to share her passion with students, teachers and directors across the scene.