St. Catharines:  Event Information
FirstOntario Performing Arts Centre; May 11 - 14, 2023
ADDRESS
FirstOntario Performing Arts Centre, 250 St. Paul Street, St. Catharines, ON L2R 3M2
**Shine Dance Competitions is being held in Partridge Hall

The building will open 1 hour prior to the first performance of the day
STAGE DIMENSIONS
approximately 35′ deep x 45′ width (at the back) & 58′ width (across the front); wings are approximately 10′
PARKING
On-site parking is not available at the First Ontario PAC; however, there are more than 1000 pay parking spots available in nearby parking garages, surface lots, and on city streets within a five-minute walk to the PAC. Please visit this link for more details.
Drop off points are available in front of the Box Office Entrance on St. Paul Street and by the front doors closest to Partridge Hall along Carlisle Street.
**Please ensure you give yourself extra time to park and walk to the theatre.
For Trailers:
Below is a map of the parking lot for trailers.  After unloading trailers can park at the Riordon St Lot.
Located at:  29 Riordon Street (enter on Riordon Street)
NOTE:  As there are monthly permit holders in that lot, please ensure trailers are parked in an organized manner.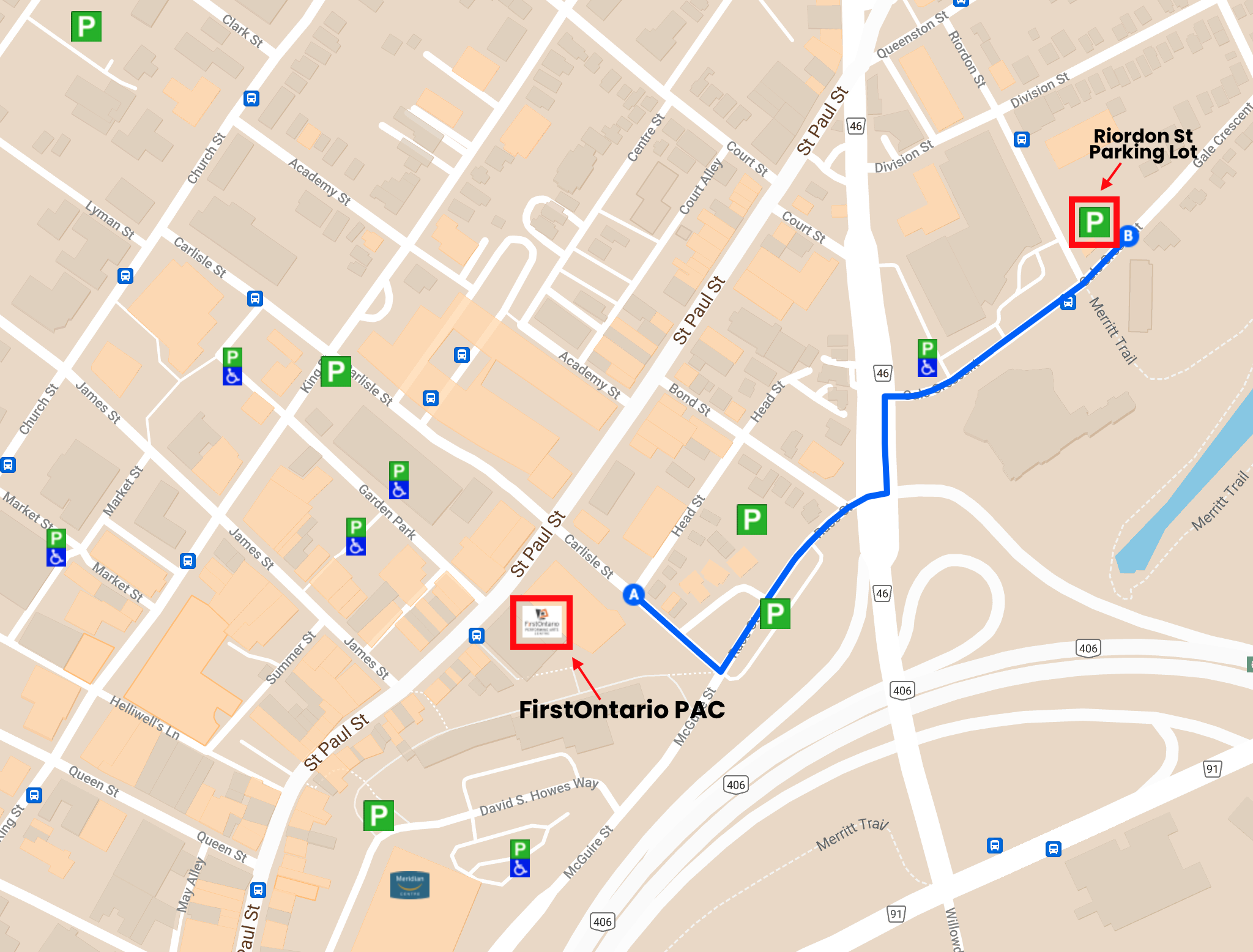 LOADING DOCK
Access to the loading dock is off of Carlisle Street.  Unfortunately, this is not a parking area – and once you have finished loading/unloading, please move your truck.
PROPS
There is a very limited amount of storage space for props in the loading dock area.  Please unload only what props you will need for the day and remove them promptly after use to make room for incoming props.
We thank everyone in advance for sharing the loading dock space.
Please ensure you have adequate staff to prep your props for easy load-in and load-off the stage.  Heavy items should be on dollies to avoid scratching the dance floor.  Props can be pre-assembled in the loading dock and then wheeled onto the stage.  We want to keep to our time-schedule so dancers are dancing as scheduled.
Thank you everyone for your combined efforts as we know this takes a lot of time and coordination!!
DRESSING ROOMS
All studios will be assigned dressing rooms. We thank you in advance for your cooperation with regard to sharing this space.
To avoid congestion:

Have hair/make-up done.
please vacate when the room is not needed.

Parents -- please pack-up all belongings from changerooms if you are leaving after the awards to make room the incoming dancers.
REHEARSAL ROOM
An area will be designated as rehearsal for all dancers to share.
SHINE SHOP
Our Shine Shop will be in full operation to get your Shine Dance Merchandise.  Please note that we will be accepting only credit or debit cards -- we will 

not

be accepting cash.
Hotel Name: Comfort Inn St. Catharines
For Dates: May 11 – 14: FirstOntario PAC, St. Catharines
| | |
| --- | --- |
| Block Booking Under | Shine Dance Block Code: 4436835 |
| Address (See map) | 2 Dunlop Dr., St. Catharines, ON  L2R 1A2 |
| Phone | (905) 687-8890 |
| E-mail | See website |
| Rate | 2 Queen beds - $109.99 (plus applicable taxes) |
| Parking | Free |
| Group Booking Ends | April 10th, 2023 |
| Cancellation Date | Please cancel by 4pm, 2 days prior to arrival, to avoid a cancellation penalty. |
| Check-In/Out | Check-in: 3:00pm / Check-out: 11:00am |
| Website | Click here |
| Restaurant? | No |
| Pool? | No |
| Driving Distance From Venue (approx.) | 5 min. |
PROGRAMS
Programs will be made available for download, free of charge, through our website approximately 2 weeks prior to the event. 
Programs will not be sold at the event.
We may run up to 15min early from the scheduled times. 
AWARDS PIN
Every dancer receives a custom Shine Awards Pin to display your ribbons on your Team Jacket! We've got one per dancer, so please make sure you pick it up at the Shine Shop.
LIVE STREAMING
This event will have a live stream available through our website
A code to watch will be provided soon
FOOD DRIVE
We are very excited to continue our annual Food Drive where all proceeds are donated to a local food bank.  To date, we have collectively raised 22,160 lbs of food!!
Please remind your dancers to bring at least 2 items of non-perishable food for our drive.
PHOTOGRAPHY
As a reminder, your entry fees now include all your Studio's photos and videos!
Media will be available approximately 1 week after the event
STUDIO NAME/LOGO
In an effort to keep your studio's identity from the judges during performances, we ask that you please cover your studio logo when placing props on the stage. 
Your dancers are certainly encouraged to wear their studio attire during awards ceremonies.
Your costume should not contain your Studio Name*
STAGE ETIQUETTE
Substances which alter the condition of the stage, and may affect the dancing surface for other competitors are prohibited (e.g. tossing sparkles, baby powder, water/liquid, body paint, etc.).  If it cannot be easily swept off the stage quickly, it should not be put on the stage.
If the stage is littered after your performance (ex: feathers, paper etc.). you must be ready for immediate removal of the items. We will have a flat broom backstage.
Helium balloons are not to be released on-stage as it is costly to get them down and they may pop during another performance if left on the ceiling. They may be used if they are on a weight and not released.

Released balloons may result in a deduction or the routine being 'adjudicated only'
Melissa Bartrem
Melissa Bartrem is a dance artist, choreographer, educator, and scholar from Toronto, Canada. Melissa's international credits include stage appearances in Brazil with the Tihany Spectacular, South America's largest Circus, Showtime! with Casino Figueria Da Foz, Portugal, and on the high seas with Princess Cruises. Her countless appearances in live events include performances as a Toronto Argonauts cheerleader, Brazilian Carnival Samba Dancer, Divas Las Vegas Live at Casino Rama to industrials representing brands and companies such as Red Bull and the Canadian Heart and Stroke Foundation. Melissa continues to appear in principal roles in film, television, and commercials.
Melissa is a doctoral candidate (Ed.D) in Dance Education at Teachers College, Columbia University in New York City. Her research interests include holistic, student-centred learning and other pedagogical practices that promote inclusion in dance spaces. These interests emerged out of an undergraduate degree in Theatre and Performance Studies from The University of Toronto and a master's degree in Dance Education, accredited though The University of Surrey, England. Melissa is currently on faculty at The University of Toronto where she teaches Curriculum and Teaching in Dance and Drama in the Master of Teaching program. She is also on faculty at Centennial College where she teaches Commercial Dance, Interdisciplinary Ensemble and Movement Technique within the Performing Arts and Theatre Arts departments. She is also appointed as an academic tutor for the RAD Certificate in Ballet Teaching Studies program, mentoring dance teachers beginning their careers in education. Melissa has collaborated, adjudicated, taught, and choreographed for world-wide arts organizations in England, South Africa, and China, in addition to presenting her in-practice research at arts and education conferences, including the World Conference in Dance Research in Athens, Greece, Dance Science and Somatics Educators conference hosted by Central Washington University and the Canadian Association of Theatre Research.
Melissa has worked in both private sector studios with recreational and competitive students of all ages and levels, and in K-12 schools as a guest artist. She holds a variety of professional dance teaching certifications and is in-demand as a competitive dance adjudicator and choreographer. Melissa is a fully certified member of the Royal Academy of Dance (RAD) and the British Association of Teachers of Dancing (BATD). She holds memberships with the National Dance Education Organization (NDEO), The International Dance Council (CID) and Healthy Dancer Canada. Her continuing education includes training and certifications with various organizations such as canfitpro, Paula Morgan Dance, Stott Pilates, Street Dance Canada, Harkness Center for Dance Injuries, Above Barre, Alixa Flexibility, the International Academy of Dance Adjudicators, and the Acro Dance Adjudicators certification, just to name a few.
Melissa is known for her infectious love of dance and looks forward to continuing to share her passion for the performing arts.
---
Sarah Cherewko
Sarah's passion for dance is clear and quite contagious. She brings an unmatched enthusiasm to her work as a dance educator and leads by example with authenticity and vulnerability.
Originally from Calgary, AB, Sarah trained extensively in RAD and Cecchetti ballet, Al Gilbert tap, ADAPT tap and jazz, lyrical, modern, acro, contemporary, musical theater and hip hop while dancing competitively until the age of seventeen. Throughout her youth as part of a non-profit touring performance company, she had had the opportunity to perform in England, Scotland, Australia, New Zealand, Spain and Morocco and at 18, signed her first of many contracts as a dancer with Carnival Cruise Lines. After moving to Montreal in 2011, her passion for teaching grew stronger and she transitioned out of performing and began working exclusively as a teacher, choreographer and competitive adjudicator. Sarah's goal as an educator and adjudicator is to help dancers foster faith in their creativity and confidence in their uniqueness.
As a certified Acrobatic Arts teacher, Sarah prides herself on providing a safe, fun and positive class environment where students can feel comfortable to explore movement, technique and experience vulnerability and personal growth. Sarah, now an accomplished teacher with twenty plus years of experience teaching ballet, jazz, acro, lyrical and musical theatre is an award winning and high score choreographer, an adjudicator at several Canadian dance competitions and in her free time is studying to become a youth counsellor.
"They say dance like nobody's watching. I think that implies that we are afraid or ashamed to dance in front of people. I say dance like everybody is watching, dance like your children are watching, your ancestors, your family. Dance for those who are hurting, those who can't dance, those who lost loved ones, and for those that suffer injustices throughout the world. Let every step be a prayer for humanity!" -Supaman
---
Nicole Byfield (Dymianiw)
Nicole Byfield (Dymianiw), originally from Burlington, Ontario, has been performing for over 30 years where her love of dance began at the young age of 3. Her training has included many styles; jazz, tap, ballet, stage, song and dance, hip hop and lyrical. She has competed across North America being honored with many overall awards and scholarships along the way.
She is sought after for her unique and innovative approach to dance, which she currently instills in the workshops and classes she instructs. She has been recognized for her excellence in choreography in regional and national competitions with her students being recipients of many overall awards and scholarships; many of her students have gone off to pursue dance at a University level.
Nicole has been adjudicating across Canada for over 10 years providing dancers with positive and constructive feedback. She prides herself on strong communication and a wealth of knowledge in all styles to give dancers a well rounded critique to help them succeed in the studio and in life!
Nicole is an alumni member of What's On? Tap!, under the direction of Kim Chalovich. She has also had the privilege of being a member of Bringing Tap Back, under the direction of Everett Smith, and GeoMetriX Dance, under the direction of Dustin Pym and Natalie Brucker. Other credits include: No Secrets "Kids in America" music video, "A Day Through Rhythm and Sound", "Tap, Love, Connection", Eastern Canadian Tap Conference, Dance Ontario's Dance Weekend, Amnesty International's Dance For Justice, So Danca's 10th Anniversary Celebration, Dancewear Association of Canada Convention, The World League Volleyball Championships, along with the Toronto Rock Lacrosse Dance Team. Nicole has also had the opportunity to perform alongside Big Bad Voodoo Daddy; a contemporary swing revival band from South Carolina and worked as a Foley artist in Guillermo del Toro's film, The Shape of Water, which won the Golden Globe for Best Director. You can hear her tapping feet in a few opening scenes.
Most recently, Nicole had the opportunity to work with The DanceBug Show in which she had a weekly feature titled, "Dance Q&A with Nicole Dymianiw". You can find her past segments by visiting TheDanceBugChannel.com. She was also a Mystery Judge on their VS Dance Battle show that took place late in 2022.
In addition, Nicole is a member of the Canadian Dance Teachers Association Stage Division (Tap), as well as a member of the Professional Adjudicators Alliance having adjudicated many competitions across Canada; this is now her chance to give back on the other side of the stage! Nicole is also the proud owner of Social Media for Dance, a business that focuses on social media management and marketing for dance related businesses in Canada, the United States and abroad.
Through her passion and love for dance, Nicole continues to motivate and inspire her students to become the best that they can be. It is her goal to instill positive and healthy attitudes in young, aspiring dancers for many years to come. She'd like to remind dancers this weekend to remember your WHY and to have the most amazing time on stage. Create memories, take everything in and know that we're cheering for you! @nicoledymianiw