St. Catharines:  Event Information
FirstOntario Performing Arts Centre; May 9 - 12, 2024
ADDRESS
FirstOntario Performing Arts Centre, 250 St. Paul Street, St. Catharines, ON L2R 3M2
**Shine Dance Competitions is being held in Partridge Hall

The building will open 1 hour prior to the first performance of the day
STAGE DIMENSIONS
approximately 35′ deep x 45′ width (at the back) & 58′ width (across the front); wings are approximately 10′
Max height for aerial rig: 27'
PARKING
On-site parking is not available at the First Ontario PAC; however, there are more than 1000 pay parking spots available in nearby parking garages, surface lots, and on city streets within a five-minute walk to the PAC. Please visit this link for more details.
Drop off points are available in front of the Box Office Entrance on St. Paul Street and by the front doors closest to Partridge Hall along Carlisle Street.
**Please ensure you give yourself extra time to park and walk to the theatre.
For Trailers:
Below is a map of the parking lot for trailers.  After unloading trailers can park at the Riordon St Lot.
Located at:  29 Riordon Street (enter on Riordon Street)
NOTE:  As there are monthly permit holders in that lot, please ensure trailers are parked in an organized manner.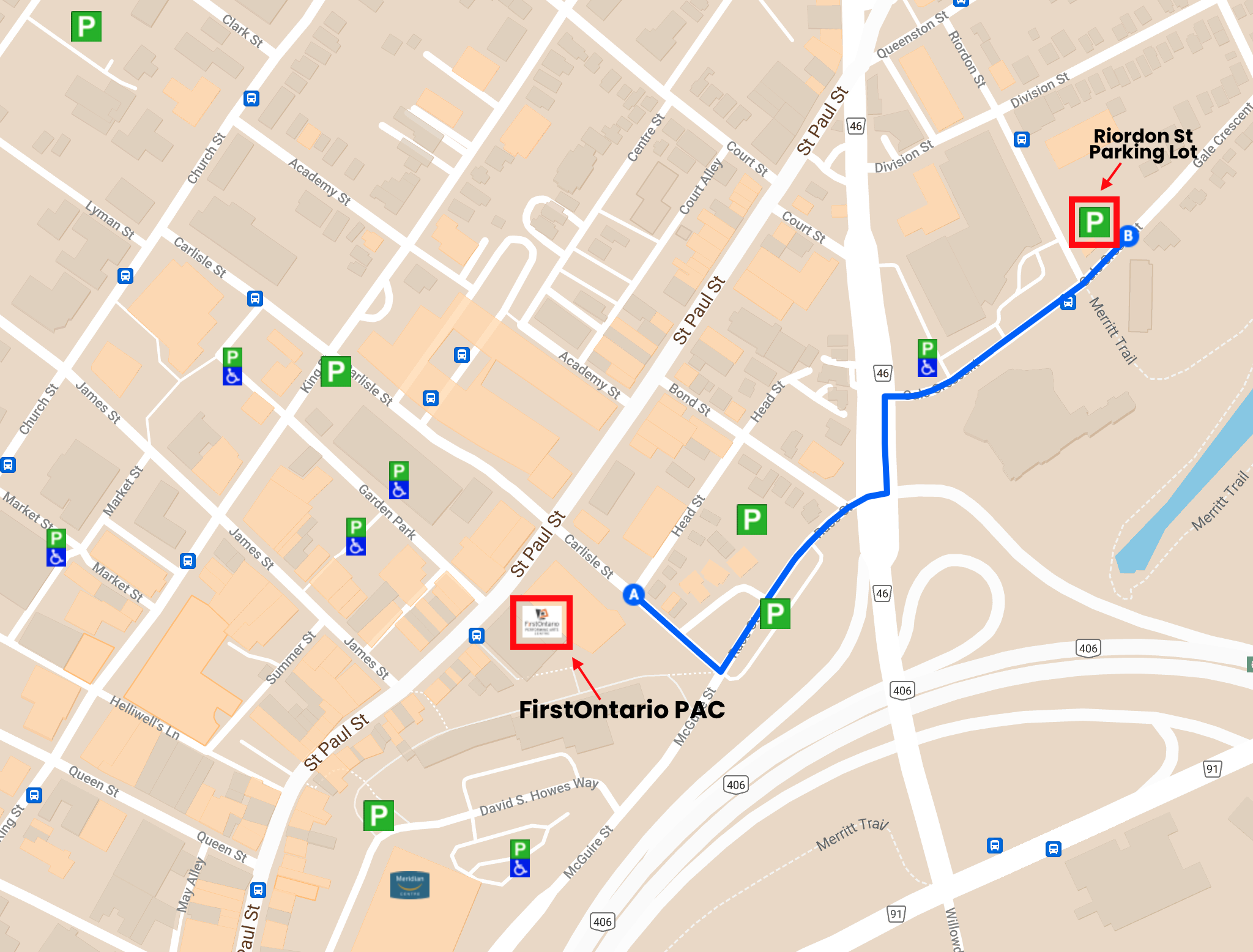 LOADING DOCK
Access to the loading dock is off of Carlisle Street.  Unfortunately, this is not a parking area – and once you have finished loading/unloading, please move your truck.
PROPS
There is a very limited amount of storage space for props in the loading dock area.  Please unload only what props you will need for the day and remove them promptly after use to make room for incoming props.
We thank everyone in advance for sharing the loading dock space.
Please ensure you have adequate staff to prep your props for easy load-in and load-off the stage.  Heavy items should be on dollies to avoid scratching the dance floor.  Props can be pre-assembled in the loading dock and then wheeled onto the stage.  We want to keep to our time-schedule so dancers are dancing as scheduled.
Thank you everyone for your combined efforts as we know this takes a lot of time and coordination!!
DRESSING ROOMS
All studios will be assigned dressing rooms. We thank you in advance for your cooperation with regard to sharing this space.
To avoid congestion:

Have hair/make-up done.
please vacate when the room is not needed.

Parents -- please pack-up all belongings from changerooms if you are leaving after the awards to make room the incoming dancers.
REHEARSAL ROOM
An area will be designated as rehearsal for all dancers to share.
SHINE SHOP
Our Shine Shop will be in full operation to get your Shine Dance Merchandise.  Please note that we will be accepting only credit or debit cards -- we will 

not

be accepting cash.
Hotel Name: Comfort Inn St. Catharines
For Dates: May 9-12: FirstOntario PAC, St. Catharines
| | |
| --- | --- |
| Block Booking Under | Shine Dance |
| Address (See map) | 2 Dunlop Dr., St. Catharines, ON  L2R 1A2 |
| Phone | (905) 687-8890 - quote "Shine Dance" when booking |
| E-mail | See website |
| Rate | 2 Queen beds - $109.99 (plus applicable taxes) |
| Parking | Free |
| Group Booking Ends | April 8th, 2024 |
| Cancellation Date | Please cancel by 4pm, 2 days prior to arrival, to avoid a cancellation penalty. |
| Check-In/Out | Check-in: 3:00pm / Check-out: 11:00am |
| Website | Click here |
| Restaurant? | No |
| Pool? | No |
| Driving Distance From Venue (approx.) | 5 min. |
PROGRAMS
Programs will be made available for download, free of charge, through our website approximately 2 weeks prior to the event. 
Programs will not be sold at the event.
We may run up to 15min early from the scheduled times. 
AWARDS PIN
Every dancer receives a custom Shine Awards Pin to display your ribbons on your Team Jacket! We've got one per dancer, so please make sure you pick it up at the Shine Shop.
LIVE STREAMING
This event will have a live stream available through our website
A code to watch will be provided soon
FOOD DRIVE
We are very excited to continue our annual Food Drive where all proceeds are donated to a local food bank.  To date, we have collectively raised 22,825 lbs of food!!
Please remind your dancers to bring at least 2 items of non-perishable food for our drive.
PHOTOGRAPHY
As a reminder, your entry fees now include all your Studio's photos and videos!
Media will be available approximately 1 week after the event
STUDIO NAME/LOGO
In an effort to keep your studio's identity from the judges during performances, we ask that you please cover your studio logo when placing props on the stage. 
Your dancers are certainly encouraged to wear their studio attire during awards ceremonies.
Your costume should not contain your Studio Name*
STAGE ETIQUETTE
Substances which alter the condition of the stage, and may affect the dancing surface for other competitors are prohibited (e.g. tossing sparkles, baby powder, water/liquid, body paint, etc.).  If it cannot be easily swept off the stage quickly, it should not be put on the stage.
If the stage is littered after your performance (ex: feathers, paper etc.). you must be ready for immediate removal of the items. We will have a flat broom backstage.
Helium balloons are not to be released on-stage as it is costly to get them down and they may pop during another performance if left on the ceiling. They may be used if they are on a weight and not released.

Released balloons may result in a deduction or the routine being 'adjudicated only'